Crimson Trace Corporation has been on the cutting edge for laser sighting products for nearly two decades.
Marketing their products to the military, law enforcement, hunters, and the armed citizen alike, they dominate their niche in the industry.
But for this small company out of Wilsonville, OR, that just isn't good enough. They pushed the envelope once again, this time reaching out to the ever popular and quickly growing competitive shooting community by holding their very own 3-Gun Invitational this past July with just one hitch…the shooting doesn't start till the sun goes down. It makes sense, right?
What better way to test your product's ability than to gear up some of the industries most talented marksmen and then turn out the lights!
But there was more to it than that… Iain Harrison, Crimson Trace's Media Relations Manager and winner of the History Channel's Top Shot season one, spearheaded this event and drew on his own experience as a competitive 3-Gunner.
Having shot in some of the world's top matches, he had a pretty good idea of what would work, and what wouldn't.
Furthermore, he revealed "One of my objectives has been to grow the sport, and the best way to do this is by exposing as many people as possible to it."
So how did Mr. Harrison ensure this would happen?
He embedded the media personnel, pounding the dirt right beside the shooters. 
So for those of you who aren't familiar with 3-Gun Competition, think Call of Duty, only the bullets are real and you are no where near your sofa.  As you may have guessed, in 3-Gun matches you use three different types of firearms: a rifle, a shotgun, and a pistol, which each competitor provides.  The shooter moves through different stages setting their sites on various designated targets.  These targets could be anything from clay pigeons and steel targets, to cardboard silhouettes and pretty much anything else that has been deemed acceptable by the match director.  Accuracy and speed are key as the shooter navigates the terrain because the competitor who hits the most targets, while avoiding the pesky  "no shoot" ones, in the least amount of time, takes home the prize…which in the case of the Midnight 3-Gun Invitational increased from $6,000 to $10,000 if you outfitted each of your guns with a Crimson Trace product.
Crimson Trace wasn't going to dish out anything less than a challenge.  For the first and only event of this kind, shooters, sponsors, and media converged on COSSA (Central Oregon Shooting Sports Association) Range located on the outskirts of Bend, Oregon.  Situated in the high desert, COSSA provided ample space, a night sky darker than coal, and enough sand and lava rock to make your footing anything but solid.  It was day one and nightfall was fast approaching.  The competitors' bellies were full courtesy of Nike, who incidentally had never before sponsored a shooting event.  Now eager to hit the dirt but had a bit of time before doing so, they caught up with fellow competitors and perused the sponsors' booths.
Familiar faces were everywhere as the best of the best were here to test out what Crimson Trace had to offer.  The Miculek Family was present, as was Rob Romero from Team Novesky, Daniel Horner and his shooting partner Tyler Payne of the United States Army Marksmanship Unit, Chris Cerino of Top Shot fame, and many more.  The goods being promoted were just as impressive.  Danner arrived with an array of boots, tempting both men and women with their state-of-the-art designs.  Otis Technology is always a draw with their innovative, and surprisingly comical, cleaning systems.  They too have jumped on the Zombie bandwagon (insert eye-roll here) with their Zombie Gun Cleaning System.  Nike was at the adjacent table and highlighted a single product, their Special Field Boot which truly lives up to its promise of providing comfort and stability for the tactical athlete…and several competitors found out first hand as Nike was passing them out for a little field testing.   There were also several behind the scenes sponsors such as Bladetech, Bushmaster, Colt Competition Systems, Federal Ammunition, FLIR, FNH, Leatherman, LED Lenser, Leupold, MGM Targets, Nosler, Primary Weapons System, and Warne Scope Mounts.  Without them, this event wouldn't have been possible.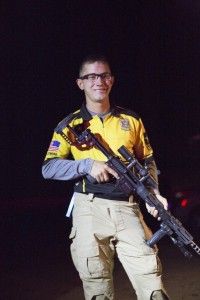 The range was abuzz as shooters made their way out of the main tent and to their specific stages.
What stages they didn't complete tonight, they would tackle tomorrow.
Competitors were permitted to outfit their guns (and I suppose their bodies in the case of headlamps and night vision goggles) with any sighting or lighting systems they desired, hopefully giving them an edge up on the demanding eight stages.
Night had fully fallen; to put this into perspective, the range lighting was extremely minimal.
Glow sticks served as safety markers and headlamps, if you were lucky to have brought one, were your only means of navigating not only the range, but the outhouses as well.
Welcome to Disorientation Station, as I called it.
The competitors' work was cut out for them, as the stages were anything but ordinary.  Mr. Harrison handed the reigns over to Match Director Chuck Anderson for stage design, admitting, "I just gave him the canvas and paint to work with and the direction to make best use of the sponsor provided guns, optics, and targets." Well, he recruited the right man for the job.
Stage one asked "Can You See That Far?" forcing the shooter to engage a total of 19 paper targets and three reactive targets at varying yardage with a stage machine gun, in this case the FN SCAR, and a rifle in a somewhat linear path. 
Stage two kicked it up a notch with "Roundabout Right".  Just the word "Roundabout" instills fear into most American motorists.  At one time or another I think we've all quoted European Vacation's Clark Griswald, "Look kids, there's Big Ben, and there's Parliament…again".  Now take away your car, toss a rifle in your hand and a pistol in your holster, and run almost a full circle in the pitch dark while engaging 15 various targets.  Gives a whole new meaning to the word "Roundabout".
Stage three demanded you "Pay the Toll" and required the shooter to successfully hit a pepper popper before moving onto the remaining targets.  All three types of guns were used and again the distances of the targets varied.   The shooters had started to realize where their lighting equipment was succeeding and unfortunately failing.
Stage four left you "Alone in the Dark" with a stage pistol, your shotgun, and finished off with your handgun.  I heard from several folks it was one of the more "fun" stages, as the targets were in closer allowing most lighting systems to sufficiently light the stage.
As I made my way down the range to Stage five there was an audible chatter.  It seemed "Bump in the Night" was turning full grown men into kids again with its shoot house.  Donning night vision, shooters took aim with a full auto AR-15, courtesy of Primary Weapons System, outfitted with the CTC Defense MVF600 infrared targeting laser, and entered a pitch-black house in search of 15 targets.  We now know how to entice boys to "play house"…toss in some NODs and an AR and they will be ironing in no time.
Stage six used all three firearms, including a Colt Competition AR which was generating some buzz, and brought the layout back to traditional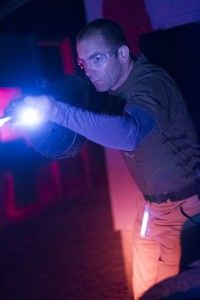 3-Gun stage.
With 24 plates, four paper, four flash, and 8 clay targets, the "Rack of Doom" was an appropriate name.
It appeared that navigating between the two halves of this stage caused shooters the most difficulty, some became disoriented, and others lost track of their footing or how many rounds they spent.
Stage seven, "Darkness Falls", tested not only your accuracy, but also whether or not you thought to bring an extended magazine.  16 targets were engaged before dumping the rifle and moving on to take out the remaining clay targets with the shotgun and the steel targets with the shotgun or pistol.  Speed was key, but accuracy was vital.
The eighth and final stage, "Light it Up", gave competitors a chance to unleash an M249 SAW fitted with FLIR thermal sighting before finishing the stage with a shotgun and pistol.  An otherwise straightforward stage, shooters started from the prone position and were told to use all 10 rounds in the SAW when engaging the first two targets or otherwise incur a procedural penalty.
These eight stages would be challenging enough in broad daylight, but when you all but removed one of the shooters key senses coupled with the fact many of the competitors had been awake for nearly 24 hours by the time the first night came to a close, you have a serious competition.  To overcome the obvious obstacle of darkness I saw shooters using everything from Crimson Traces own Light Guard to a Surefire flashlight ducktaped to the barrel of a shotgun.  No matter what they were using, the consensus was the same; EVERY GUN must be equipped with a light.  Do not rely on your headlamp to discern whether or not you were on target at a range of 25 meters or more. Given Crimson Trace's upcoming release of green lasers I was also curious to hear what competitors had to say regarding the red vs. green debate.  Those few who had the opportunity to use the green laser agreed it was the better of the two; green was easier to see and caused less strain on the eyes.
So who best overcame the challenges set forth by Crimson Trace?  It was no surprise that SSGT Daniel Horner of the United States Army Marksmanship Unit was awarded Grand Champion and for using Crimson Trace products on each of his firearms he was awarded $10,000, albeit $4000 of it was humorously awarded on a tiny cardboard makeshift check.  Top Lady was awarded to Kay Miculek and Top Junior was awarded to Hayden Hixon.  The winners and the runners up all earned a pass at the prize table, and those of us who didn't participate won a new found appreciation to what it is like when our limits are pushed after the sun goes down.  Once again, Crimson Trace sets the standard, creating and hosting a spectacular event while broadening the reach of competitive shooting.  I for one look forward to see what they have up their sleeves and in their range bag for next year… When the sun goes down, light 'em up!
Published in Western Shooting Journal, October 2012