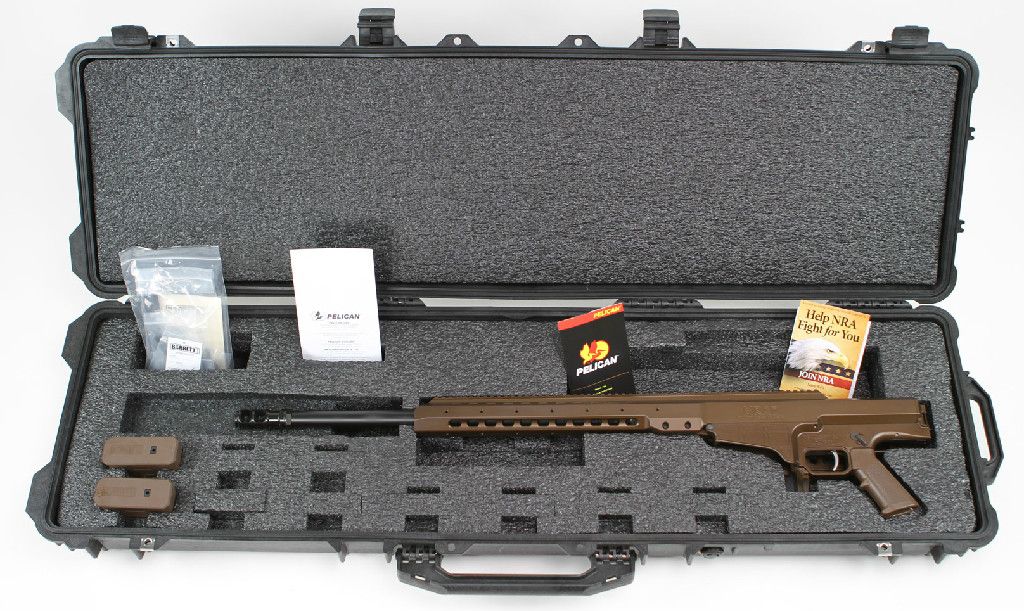 American entrepreneur Steve Jobs once said it is "our DNA is as a consumer company – for that individual customer who's voting thumbs up or thumbs down…and we think that our job is to take responsibility for the complete user experience. And if it's not up to par, it's our fault, plain and simply."
Jobs relied heavily on likeability, trustworthiness and quality to keep his customers coming back. The "user experience" remains and is more than just a single product, it is a marketing ideal – a marketing ideal that a certain Tennessee firearms manufacturer strives to reach as well.
Over three decades ago, Murfreesboro, Tenn., native Ronnie Barrett had an idea. Sitting at his dining room table, he toiled over this idea, sketching designs and imagineering parts. Out of the eraser rubble was born the Model 82, a shoulder fired .50-caliber rifle, a rifle rivaled by no other and used by civilians and military alike to this day.
But there is so much more to Barrett's namesake company than its ability to think outside the box. Barrett's success relies greatly on what it puts into the box (or in this case, the Pelican case). Most don't realize there is much more to buying a Barrett than just buying a gun.
And so begins (to coin Jobs' phrase) the "Barrett Experience."
EASY INFO AT YOUR FINGERTIPS If you have ever happened upon the Barrett website, your experience has already begun. Elegant simplicity is delivered in black, white, and red. Perfection is mandatory, as is ease of navigation and finding a wealth of information at your fingertips. The company's product images are detailed and sharp, yet artistic. The product descriptions are informative but not overwhelming.
The goal is not only to exceed the company's own expectations, but also to exceed yours, welcoming you to become part of the legend.
Barrett's QDL Suppressor is shipped in a firm foam insert and comes complete with a mirage-mitigating device (MMD) and a Modular Lightweight Load-Carrying Equipment (MOLLE) pouch. (BARRETT)
MAKING A (PELICAN) CASE FOR YOUR GUN Barrett knows to keep you coming back you must trust that your new purchase is worth every penny, from the case to the instruction manual and the bag that houses it. There is little worse than rushing home from your local firearms dealer with your new rifle only to open a beat-up cardboard container that rattles worse than a box of Legos. 
Not quite the experience Barrett has in mind. Consequently, the company looks to Pelican-brand cases, a longtime supplier to the military, to prevent their rifles from being a pile of rubble before they reach the range. With their watertight, crush-proof and dust-proof polymer construction coupled with their double throw latches, stainless padlock protectors, and lifetime guarantee, Pelican cases provide not only a secure container, but an almost-indestructible shipping vessel as well.
Barrett also extends this luxury to the public consumer. The company's marketing team points out that the military mystique reaches far beyond the armed forces and is also a key aspect in Barrett's ongoing success in the commercial market. The quality of the brand is important, as is represented by this passage on the company's website: "People want to feel connected to that somehow. Whether they used a Barrett on duty, or have always been true patriotic Americans and fans of our products. We [see] an opportunity to present everything, even spare parts, the way you would expect something with the name Barrett to be presented."
As you pop the latch and raise the lid on the Pelican case, you immediately see no detail has been overlooked, especially in the case of the MRAD. Recipient of a 2012 NRA Golden Bullseye Award for Rifle of the Year, the MRAD, like other Barrett rifles, is nestled perfectly in a bed of custom fit firm foam inserts with plenty of room for extra magazines and spare parts.
REDUNDANT PROTECTION IN PLACE Wanting to extend the reputation of quality beyond the case, Barrett looks to Heritage Packaging and their ZCORR line to replace the standard poly-mil zipper bags that previously housed Barrett's spare parts. Heritage Packaging is all-American, family owned and operated, with over 20 years in the industry. Military proven, their reputation precedes them.
Heritage Packaging mirrors Barrett's brand ideals so well they have joined forces to co-brand their anti-corrosion bags. Constructed with volatile corrosion inhibitors (VCI), the bags will provide corrosion and moisture protection far superior than their predecessors. These bags will not only house the medium spare parts kits, warranty replacement parts, and military support kits, but also just about anything else that will fit in the bag.
Falling into the "anything else" category happens to be the MRAD's barrel caliber conversion kit. These kits haven't started shipping yet, but when they do, they too will be in a protective VCI bag, which in turn will be secured in a CORDURA bag complete with handle.
Six or 65 years old, we all know the CORDURA brand. As children, who of us didn't have a Jansport backpack? Known for its durability and resistance to tears and scuffs, CORDURA is a key ingredient in high-performance gear and tactical wear with brands from North Face and Oakley to Propper and Rite in the Rain. Barrett understands using CORDURA will provide a versatile and durable kit bag that can be easily accessed and just as easily tossed into your Pelican or soft-sided carrying case.
ADVANCED SUPPRESSOR SYSTEM Barrett's QDL (quick-deploy large) Suppressor receives the same attention to detail as the accessories and rifles. Shipping in a firm foam insert, the suppressor comes complete with a mirage-mitigating device (MMD) and a Modular Lightweight Load-Carrying Equipment (MOLLE) pouch.
Barrett has taken the time to consider not only whom the target audience is, but also that the product needs to be field ready. In this case, the MMD is vital in the ability to accurately identify and engage targets, as well as estimate wind speed and direction downrange, as it significantly reduces the mirage created by the suppressors' displacement of heat.
The MOLLE system has become standard for current modular tactical gear and now is filtering down into the outdoor equipment market as well, so supplying the suppressor in its own compatible pouch allows quick and easy portability. Furthermore, Barrett buyers are guaranteed an accurate fit, and can avoid having to shop around for an otherwise ill-fitting pouch.
From the creation of the Model 82A1 to the co-branding efforts of the VCI protective parts bags, it is clear that Barrett cares not only about the quality of their firearms, but also for the consumers' desire to feel good about their purchase.
You work hard for the money you make, and should have complete satisfaction in what you choose to spend that money on. Barrett understands that. The company understands that your purchase is an investment, and what it means to properly accessorize and protect that investment. They've done the research so you don't have to, and if you like the Barrett name and the people who stand behind it – and you trust the quality of design and craftsmanship of the products – you will continue to come back to Barrett.
"Barrett pays attention to the details, even down to our packaging, because we know the value of our products, how they are used and that they should be treated with respect," says marketing director Angela Barrett. "Regardless if the product is going to a civilian or military end user, we make sure everything we send out the door is just as rugged, reliable and accurate."
Like the quest for the most superior firearm, likeability, trustworthiness, and quality are not just a passion of Barrett, but almost an obsession.
Welcome to The Barrett Experience.
Published in Western Shooting Journal, February 2013